Jomon Tennen-onsen Shirakunoyu
4-314-1, Tsukagoshi, Saiwai Ward, Kawasaki City, Kanagawa Pref.
Water of natural bounty, that the seawater trapped underground long ago has matured for hundreds of thousands of years.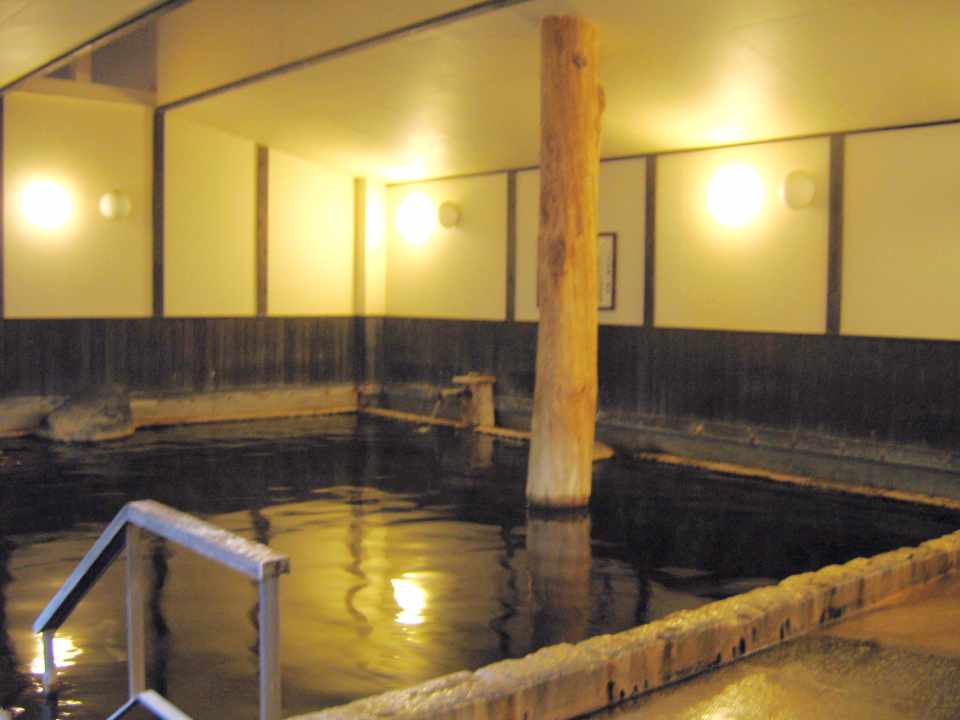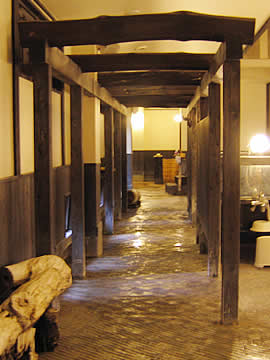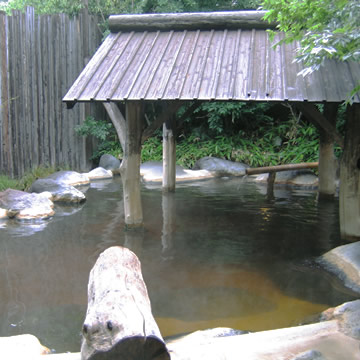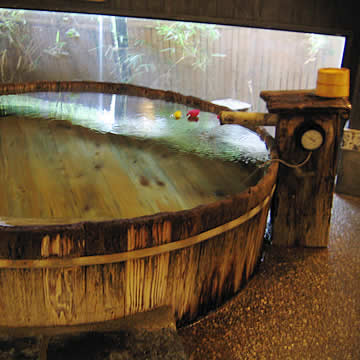 The hot spring with rich ingredients is ancient seawater called "fossil seawater". A hypertonic hot spring in which minerals, fibers, ingredients of plants and seaweed, etc. are melted.
The concept is "making a home village in the city". The open-air bath was made by carrying andesite from Yatsugatake in Shinshu and natural Quercus trees from Kyushu.
They are providing a healthy and original menu such as truly safe and delicious meals based on macrobiotic methods.
Click to the description page
The saunas are: a dry sauna for men and a mist sauna for women.
Location
Rating of access
5.0 pt(from Shinagawa)
→ How to rate access

Area / Railway
Kanto Region
Kanagawa Pref.
JR Nanbu Line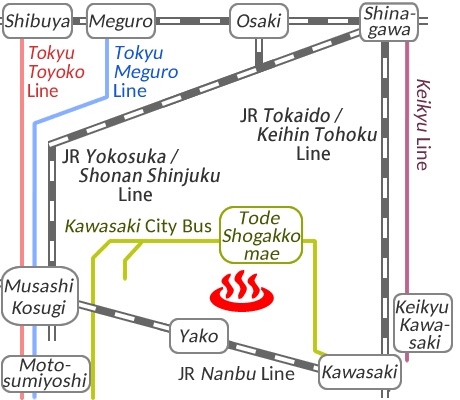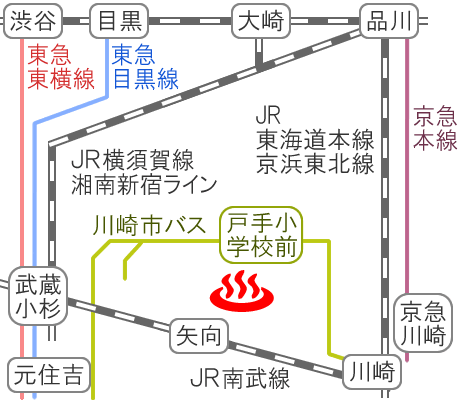 Click the station name or bus stop name to open EKITAN or NAVITIME
Kawasaki City Bus timetable etc.
Route from
Tokyo (Shinagawa)
Shinagawa

Sta.JR: 10 min

Tokaido

Line etc. ¥ 220
(Transfer at

Kawasaki

Sta.)JR: 5 min

Nanbu

Line ¥ -

Yako

Sta.Walk: 8 min

0.6 km (0.4 mi)

Shirakunoyu
Route from
Tokyo (Shinagawa)
Shinagawa

Sta.JR: 10 min

Tokaido

Line etc. ¥ 220

Kawasaki

Sta. (West exit)

No.54, No.55 Bus Stop

Kawasaki

City Bus: 12 min

Kawa

-63, 64, 66, 67, 83 ¥ 210

Tode Shogakko-mae

Bus StopWalk: 5 min

0.4 km (0.2 mi)

Shirakunoyu
Route from
Tokyo (Shibuya)
Shibuya

Sta.

Tokyu

: 20 min

Toyoko

Line ¥ 220

Motosumiyoshi

Sta. (East exit)Walk: 3 min

Motosumiyoshi

Bus Stop

Kawasaki

City Bus: 25 min

Kawa

-63, 64, 66 ¥ 210

Tode Shogakko-mae

Bus StopWalk: 5 min

0.4 km (0.2 mi)

Shirakunoyu
Routes from
Tokyo
Shinagawa

JR

Yako

Walk

23 min ¥ 220
Shinagawa

JR

Kawasaki

Bus

27 min ¥ 430
Shibuya

Tokyu

Motosumiyoshi

Bus

53 min ¥ 430
The above fares are based on cash. When using an IC card, the fares may differ slightly.
The above times and distances are approximate. Does not include transfering or waiting times.
How to get to
Shirakunoyu
(Directions from
Yako

Sta.)
Exit the station, go left and cross the railroad crossing
Turn left immediately after crossing the railroad crossing. Go parallel to the railroad
Turn right at the end
Pass in front of a housing complex. The destination is where the vegetation is overgrown
Travel journal of day trip bathing to hot spring
Characters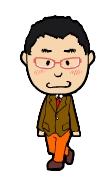 Nishi-san

He is an orthodox hot springs lover and particular about quality of springs. He loves the hot springs flowing from the source, the hot water with a presence, and the rustic atmosphere.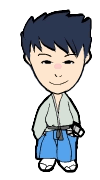 Kita-san

He doesn't care much about quality of hot springs. He loves the open-air bath, and prefers hot springs that have visible features such as good views.
Today's Nishi-san and Kita-san are going to Shirakunoyu in Kawasaki. They are walking from Yako Station on the JR Nambu Line.
I think this road. For walking about 5 or 6 minutes from the station ...
I have come to Yako for the first time, but here is an ordinary residential area, you know. Is there really a hot spring near here?
There is. It's not a hot spring town, though.
Around here is just a housing complex, you know. We've already walked for 5 or 6 minutes, but the hot spring is ...
Oh, here we are.
So close to!
♨ A flag of Shirakunoyu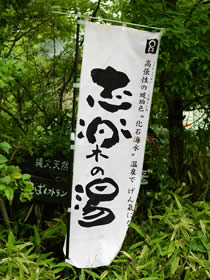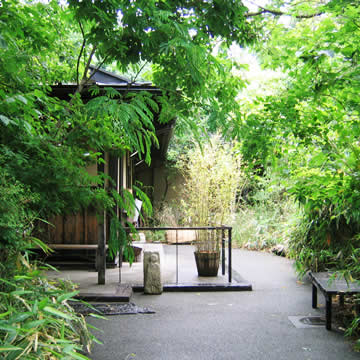 Exterior (Entrance)
The flag of Shirakunoyu, which is in front of the overgrown plant, shows that here is their destination. The entrance is behind of the parking lot covered with wood chips.
I hear this onsen has a theme of Jomon.
Jomon? From the Jomon Period? Is there something related to the Jomon Period?
Well ... I have no idea. Anyway, there's a lot of green, and it's a bit like a forest.
At first to the bathing room. The first thing you see in the bathing room is a long passage, named "Jomon Path".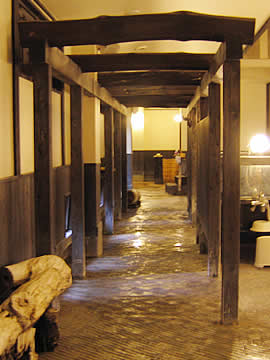 Passage "Jomon Path"
Well, outside here is open-air bath, and the indoor bathtub is the back.
Right.
The bathtub is located at the end of the passage. Nishi-san and Kita-san head for the indoor bath, without commenting about the Jomon-ish rope pattern on the passage floor. The indoor tub named "The Pillar tub" has a large pillar standing.
♨ According to Shirakunoyu's website, this land used to be a Jomon forest long ago.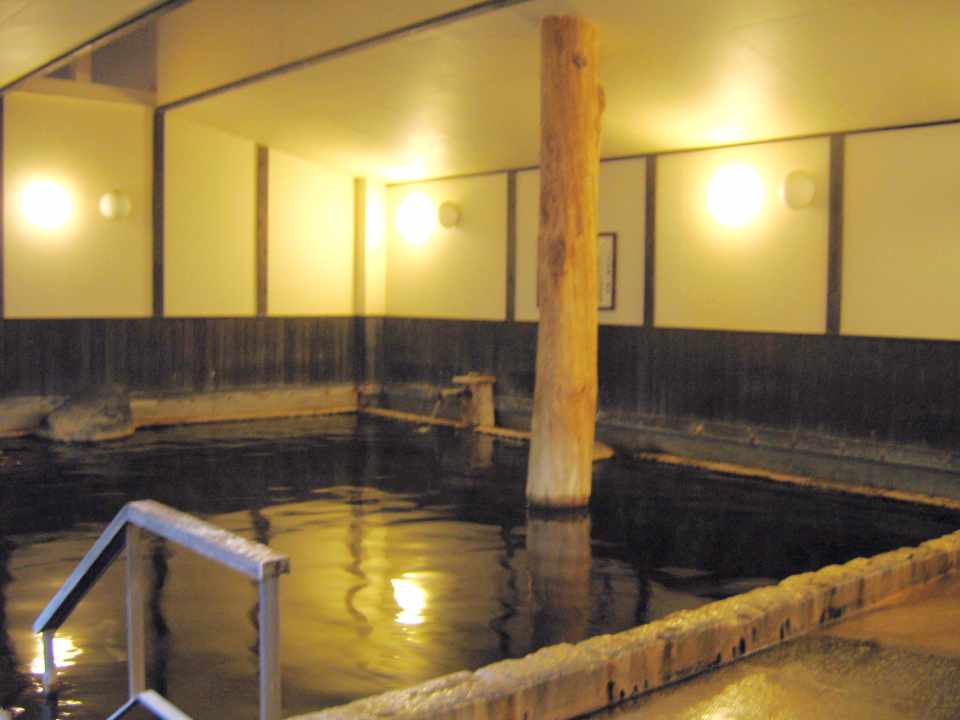 Indoor bath "The Pillar tub"
I don't know how well, but this water has ocher? I feel calms down and smells like an old Tatami.
And, The taste is quite salty. it's sure the ancient fossil seawater.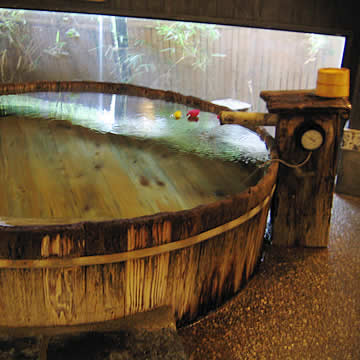 Miso barrel tub
This big pillar is good for leaning on. But a little more diagonally would be better.
No, this pillar is not for your backrest.
Other indoor baths include a miso barrel tub, a dry sauna and a cold water bath. After entering them one by one, they go out to the open-air bath.
♨ It is a men's bath that has "The Pillar tub" and a dry sauna. The women's bath has "Magatama tub", "Kuraishi tub" and "Seabed cave steam bath (mist sauna)".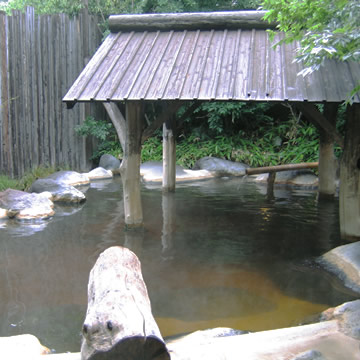 Open-air bath
Well, I like open-air, and this has a feeling of savory or rough edge.
In short, apparently, rocks and trees are arranged to look naturally.
I see. It's a bit difficult to walk, but I prefer like being in nature, you know.
It's amazing to make it so natural in the urban.
This makes me want to stay longer.
Nishi-san and Kita-san, who enjoyed Shirakunoyu, came out of the bath. Shirakunoyu has a break room with tatami mats and chairs. The facility offers health-friendly snacks, such as organic brown rice, based on the concept of macrobiotics.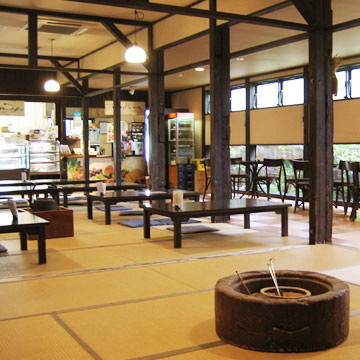 Break room (and restaurant)
After the bath, the rice balls here are pretty good ... but beer is good too.
Well, I don't really know what macro something are, but this menu looks like it's healthy ... but beer is good too.
... After all, beer?
Right on!
That's why Nishi-san and Kita-san were just a step away from becoming healthy.
(May 2014)
♨ Shirakunoyu, including the open-air bath, was created under the supervision of Mr. GOTO Tetsuya, who revived Kurokawa Onsen in Kyushu.
Impression & rating
The hot water is powerful and I think the potential is high. It would be the best if it were flowing from the source.
Impression & rating
Even though it is in the city, the natural feeling of the open-air bath is so good. If it's not crowded, you'll be so satisfied.
→ How to rate
The
Onsen

facility
Address

4-314-1,

Tsukagoshi, Saiwai

Ward,

Kawasaki

City,

Kanagawa

Pref.

Phone

domestic: 044-533-8888
international: +81-44-533-8888

Web Site

Bathing hours

10:00 - 24:00 (15:00 - 24:00 on the third Wednesday of every month except August)
(The use of bath and undressing room is up to 23:45)

Regular holiday

Open year round (with special closed days)

Charge

Adults (junior high school students and above): [Weekdays] ¥ 990, [Sat., Sun. and Holidays] ¥ 1,170
5 years old and under elementary school students: [Weekdays] ¥ 600, [Sat., Sun. and Holidays] ¥ 805

Baths

Gender-separated indoor bath, Gender-separated open-air bath

Remarks

Tattoos are not allowed.
The hot spring data
(According to hot spring analysis report etc.)
(Survey date: Aug. 8, 2008)
Spring quality

Sodium - Chloride spring

(Hypertonic Neutral Hot spring)

Source

4-314-1,

Tsukagoshi, Saiwai

Ward,

Kawasaki

City,

Kanagawa

Pref.

Temperature

34.5 ℃ (94.1 ℉)
[air temperature: 36.0 ℃ (96.8 ℉)]

Volume

56 L / min (Pumping after drilling)

Drilling depth

1,300 m (4,285 ft)

pH value

7.3

Total ingredients

27.91 g / kg

Perception

Yellow-brown, slightly cloudy, strong saltiness almost odorless
Today's Sweets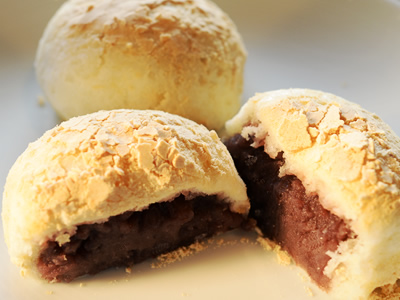 Oiwake manju

(steamed sweet bean paste bun)

(Tamagawa confectionery store)

The first thing that surprises you is its skin. While it is fluffy, and a unique elastic dough that is not sticky. The sweet bean paste inside is elegantly, and the harmony is good with the kinako (toasted soybean flour) around it. Without being flashy, a gem that you can feel a polite working. It's a little long distance from Kawasaki Station to the store, but it's a bliss if you bring your tea and eat while hot. (¥ 130)
The descriptions on this page contain personal opinions and are not necessarily objective facts.
The information may have changed at present. In particular, the charge and price etc. has often not updated from the time of travel, so check the latest information on the official website.