Rokuryu-kosen
3-4-20, Ikenohata, Taito-ku, Tokyo
Good old
Kuroyu

bathhouse in

Tokyo

. But, too hot water and too deep bathtub are nothing but Black Hot Sadistic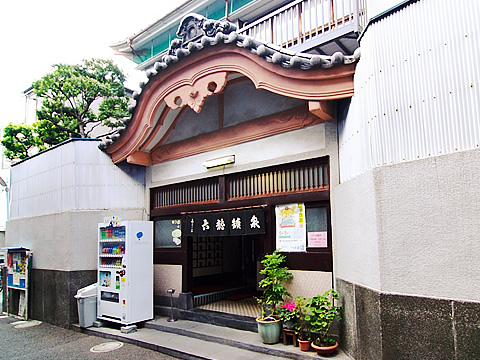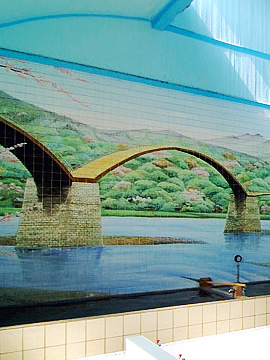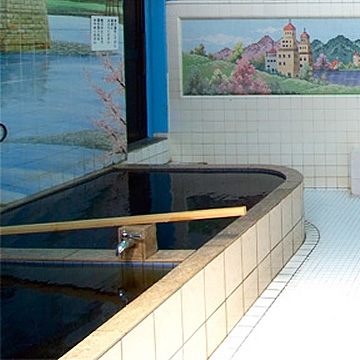 Transparency is about 30 cm (12 inches). This Kuroyu has color like oolong tea.
Rokuryu-kosen has two temperature bathtubs: moderate and high. However, it is no less than 45 ℃ (113 ℉) even if it is said to be moderate temperature. The high one is exceptionally hot and deep tub.
It has a propeller fan on the undressing room ceiling, the Kara hafu (Chinese-like gable) at the entrance, and the Kintaikyo Bridge mural on the bathing room wall. Founded in 1931, an old-fashioned bathhouse that has continued since before the World War Two.
Click to the description page
Rokuryu-kosen was closed on August 15, 2020.
Location
Rating of access
5.0 pt(from Ueno)
→ How to rate access

Area / Railway
Kanto Region
Tokyo
Tokyo Metro Chiyoda Line
Keisei Line
JR Yamanote Line etc.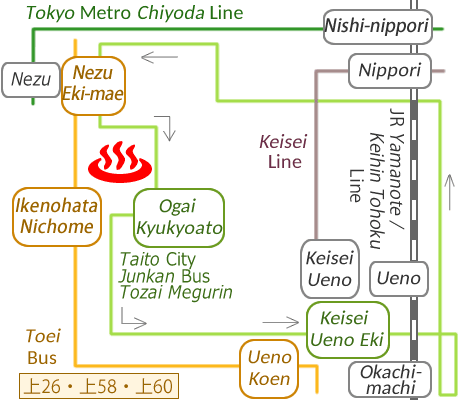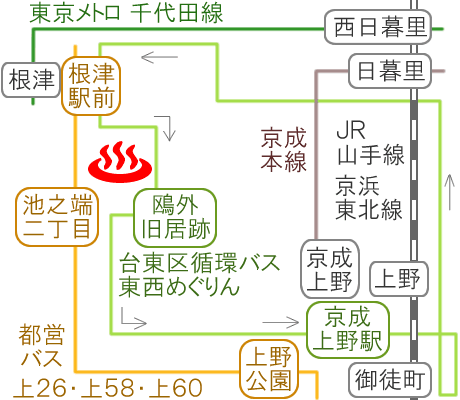 Click the station name or bus stop name to open EKITAN or NAVITIME
Route from
Ueno
Keisei Ueno

Sta. or
JR

Ueno

Sta. Walk: 14 min

1.1 km (0.7 mi)

Rokuryu-kosen
Route from
Ueno
Ueno

Sta.Walk: 6 min

0.4 km (0.2 mi)

Ueno Koen

Bus Stop

Toei

Bus: 5 min

¥ 210

Ikenohata Nichome

Bus StopWalk: 6 min

0.5 km (0.3 mi)

Rokuryu-kosen
Route from
Nishi-Nippori
Nishi-Nippori

Sta.

Tokyo

Metro: 3 min

Chiyoda

Line ¥ 170

Nezu

Sta.Walk: 7 min

0.5 km (0.3 mi)

Rokuryu-kosen
Routes
Ueno

Walk

14 min ¥ 0
Ueno

Bus

17 min ¥ 210
Nishi-Nippori

Tokyo

Metro

Nezu

Walk

10 min ¥ 170
East-West

Megurin

takes a long time from

Ueno

Station to

Ogai Kyukyoato

Bus Stop. On the other hand, return (from

Ogai Kyukyoato

Bus Stop to

Ueno

Station) takes about 6 minutes.
The above fares are based on cash. When using an IC card, the fares may differ slightly.
The above times and distances are approximate. Does not include transfering or waiting times.
How to get to
Rokuryu-kosen
(Directions from JR
Ueno

Sta.)
Proceed from

Shinobazu

Exit toward

Shinobazu

Pond, and head north on the road (

Dobutsuen-dori

) between

Ueno

Park and

Shinobazu

Pond.
Straight along the road
Enter the left path at there is the sign on a utility pole
Travel journal of day trip bathing to hot spring
Characters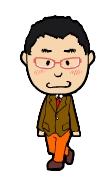 Nishi-san

He is an orthodox hot springs lover and particular about quality of springs. He loves the hot springs flowing from the source, the hot water with a presence, and the rustic atmosphere.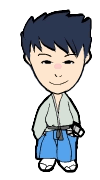 Kita-san

He doesn't care much about quality of hot springs. He loves the open-air bath, and prefers hot springs that have visible features such as good views.
Kuroyu is one of the hot springs that Tokyo is proud of. This time, Nishi-san and Kita-san have come to Ueno to go to the Kuroyu bathhouse "Rokuryu-kosen". They walked while looking at Shinobazu Pond on the left, and around 3:30, they have arrived at Rokuryu-kosen.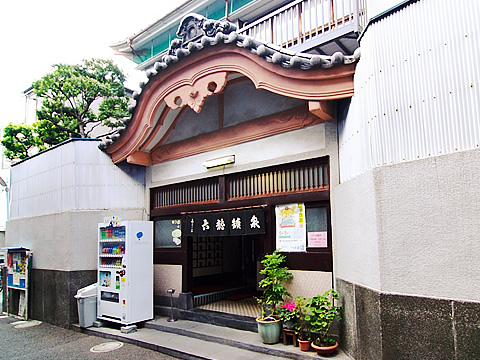 Exterior
Wow, Kara hafu! It's just like a bathhouse.
Looks a solid atmosphere.
They entered the undressing room. Though it has just opened, some regular customers were already being.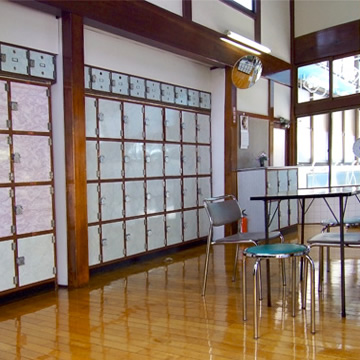 Undressing room
Oh, This bathhouse has a high ceiling and a pretty nice building.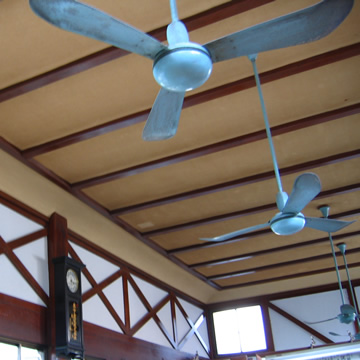 Undressing room ceiling
Hey, carp are swimming in the garden pond, you know.
Nishi-san and Kita-san step into the bathing room. The sunlight in the afternoon is pouring down from a skylight on a blue high ceiling. They are directing a refreshing atpmosphere that the mural painting of Kintaikyo Bridge in front and the Western-like painting on the side wall. In this bright bathing room, there are not a bit of the indication of the upcoming tragedy.
♨ When coming from Ueno Station, turn left with this sign on a utility pole.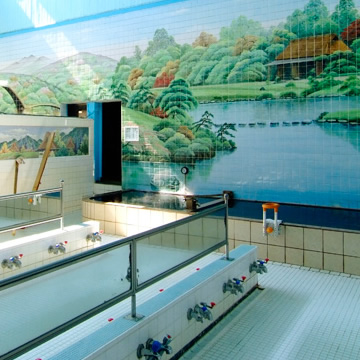 bathing room
It's so bright. I thought it was dark because an old-fashioned bathhouse, but completely different.
The bathtub of Kuroyu in Rokuryu-kosen is divided into "moderate temperature tub" and "high temperature tub". (A part of the moderate one is a jacuzzi.) First of all, the two enter the moderate one.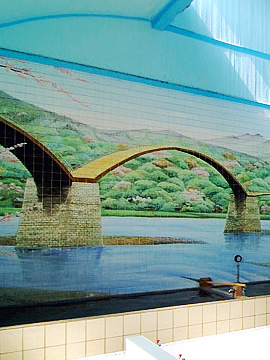 Bathhouse mural painting
Wow! So hot!
It's really hot ... You can't take a long bath. In short, getting in and out quickly is smart.
Kita-san, who is not good at hotter water, can't stay in the moderate one for just only 10 seconds. but even so, it seems that the "high temperature tub" is a concern.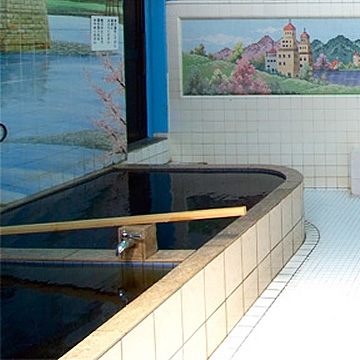 Kuroyu bathtub
There tub is hotter than here ... Well, you can't tell unless you try. I'll try a little bit ...
You feel too hot even if moderate, don't you? Can you get into the high one?
The high tub is so deep, that it's impossible to get into little by little from the tip of foot while checking the temperature.
!!!
I told you so.
☆◆!!! ▼chi!!!
Be quiet.
Kita-san has finally escaped from the tub.
... I thought I would die ...
Nishi-san and Kita-san gave up soaking in the bathtub long time and decided to leave so soon.
Still warm even after getting out of the bath.
My body still hurts ... Like I've burned ...
Rather than relaxing in the bath, Kita-san came back home with a sense of defeat.
(March 2013)
The reason why Kuroyu looks black is what it has "humic acid" made from plant sediments. Tokyo has many Kuroyu hot springs.
♨ For bathhouses in Tokyo, it is common for water temperatures to be around 46 ℃ (114.8 ℉). Apart from the locals, it's so hot for most travelers, I think.
Impression & rating
There is an old-fashioned, slightly nostalgic atmosphere. The water is also fresh.
Impression & rating
Surely I think the atmosphere is good. But ... it's too hot to get into ... the bathtub.
→ How to rate
The
Onsen

facility
Address

3-4-20,

Ikenohata, Taito-ku, Tokyo

Phone

domestic: 03-3821-3826
international: +813-3821-3826

Web Site

-

Bathing hours

15:30 - 23:00

Regular holiday

Mondays and Thursdays

Charge

Adults (12 years old and over): ¥ 470 / Elementary school students: ¥ 180 / Preschool children: ¥ 80

Baths

Gender-separated indoor bath

Equipments

No shampoo etc.
The hot spring data
(According to hot spring analysis report etc.)
(Note) The following data is based on the 1931 analysis.
Spring quality

Sodium - Hydrogen carbonate spring

(Hypotonic (Weak) Alkaline Cold mineral spring)

Temperature

-

pH value

- (Weak alkaline / Alkaline)

Total solids

1.2770 g / kg

Perception

... Reddish-black-brown clear, trace foreign matter recognized, no smell, ...
Today's
Ekiben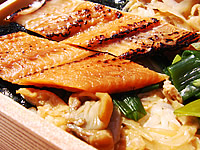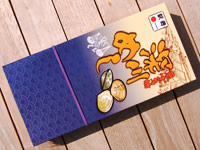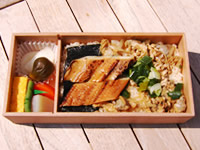 Fukagawa Meshi
(Purchased at Ueno Station)
One of Tokyo's representative Ekiben is Fukagawa Meshi. It containes clams and conger eel. I think that clams are the leading role because it is called Fukagawa Meshi that the rice bowl with clams, but conger stands out. Though, clams and conger are both delicious, so it's no problem.
« contents »
Tea rice (Japanese), Fukagawa-ni (clams, fried tofu, burdock, ginger), Simmered conger, Seaweed, Tree onion, Rolled omelet, Simmered food (konjac, carrot, common bean), Daikon pickles, Small eggplant pickles
(¥ 900)
We use the words "hot spring" and "

onsen

" on this page, but we do not guarantee if the facility satisfies the legal requirements for a hot spring.
The descriptions on this page contain personal opinions and are not necessarily objective facts.
The information may have changed at present. In particular, the charge and price etc. has often not updated from the time of travel, so check the latest information on the official website.