Kamata-onsen
2-23-2, Kamata-honcho, Ota-ku, Tokyo
Kuroyu

, the black water that

Tokyo

boasts, has only 5 cm transparent. A hot spring bathhouse with a feeling of old town, where local residents of

Kamata

gather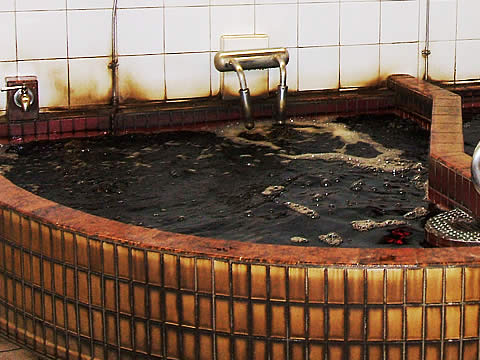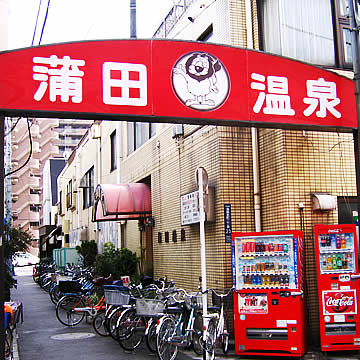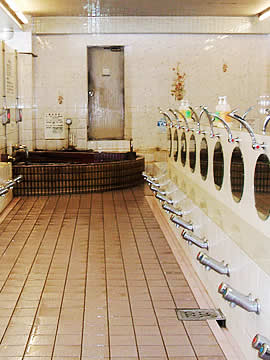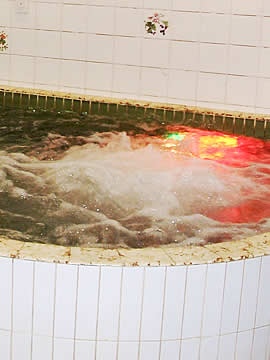 This Kuroyu feature a blackness. One of the most black water in Tokyo has only about 5 cm (2 inches) transparent. The bathtub has a hot spring faucet , which can be added Kuroyu. This bathhouse has two Kuroyu bathtubs, high and low temperature.
In addition to Kuroyu, Kamata-onsen has other bathtubs such as Jacuzzi with electric bath, cold water bath and sauna.
The second floor is a dining room and banquet hall where you can eat and rest. There is also a karaoke stage, which is also a social venue for local residents.
Location
Rating of access
5.0 pt(from Shinagawa)
→ How to rate access

Area / Railway
Kanto Region
Tokyo
Keikyu Line /
JR Keihin-Tohoku Line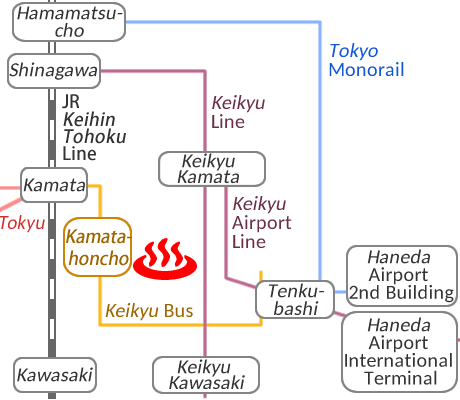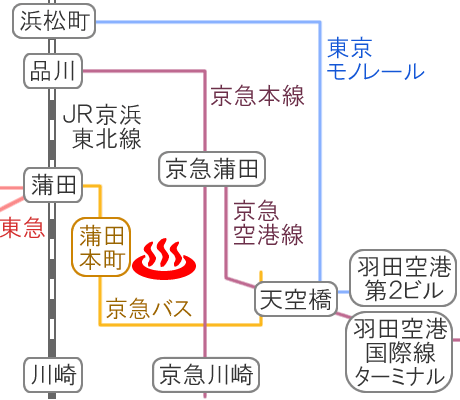 Click the station name or bus stop name to open EKITAN or NAVITIME
Route from
Shinagawa
Shinagawa

Sta.

Keikyu

: 7 min

Keikyu

Line (Rapid etc.) ¥ 200

Keikyu Kamata

Sta.Walk: 12 min

0.9 km (0.6 mi)

Kamata-onsen
Route from
Shinagawa
Shinagawa

Sta.JR: 10 min

Keihin-Tohoku

Line ¥ 170

Kamata

Sta.Walk: 13 min

1 km (0.6 mi)

Kamata-onsen
Route from
Shinagawa
Shinagawa

Sta.JR: 10 min

Keihin-Tohoku

Line ¥ 170

Kamata

Sta. (East exit)

No.1 Bus Stop

※

Keikyu

Bus: 4 min

Kama

-73, 74, 75 ¥ 220

Kamata-honcho

Bus StopWalk: 2 min

0.2 km (0.1 mi)

Kamata-onsen
Route from
Hamamatsu-cho
Hamamatsucho

Sta.

Tokyo

Monorail: 17 min

¥ 420

Tenkubashi

Sta.

※

Keikyu

Bus: 25 min

Kama

-73, 74, 75 ¥ 220

Kamata-honcho

Bus StopWalk: 2 min

0.2 km (0.1 mi)

Kamata-onsen
Routes
Shinagawa

Keikyu

Keikyu Kamata

Walk

19 min ¥ 200
Shinagawa

JR

Kamata

Walk

23 min ¥ 170
Shinagawa

JR

Kamata

Bus

16 min ¥ 390
Hamamatsu-cho

Tokyo

Monorail

Tenkubashi

Bus

44 min ¥ 640
Keikyu

buses going to

Kamata-honcho

Bus Stop have the system number:

Kama

-73, 74, 75 (to

Rokugo Jinja, Daishibashishita, Haneda Shako

).
The above fares are based on cash. When using an IC card, the fares may differ slightly.
The above times and distances are approximate. Does not include transfering or waiting times.
How to get to
Kamata-onsen
(Directions from JR
Kamata

Sta.)
Go out the station east exit and turn right
Turn left when you come to

Kanpachi

(Loop Road No.8)
Cross the

Kanpachi

and enter the road next to the post office
Turn left at the

Kamata-onsen

sign on a utility pole
(Directions from
Keikyu Kamata

Sta.)
Go out of the east exit and go down to south (toward

Kawasaki

) along

Daiichi Keihin

Turn right at the "

Kamata

Fire Sta." signal intersection
Travel journal of day trip bathing to hot spring
Characters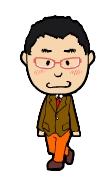 Nishi-san

He is an orthodox hot springs lover and particular about quality of springs. He loves the hot springs flowing from the source, the hot water with a presence, and the rustic atmosphere.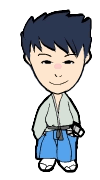 Kita-san

He doesn't care much about quality of hot springs. He loves the open-air bath, and prefers hot springs that have visible features such as good views.
Ota City in Tokyo is a land where many hot spring bathhouses with Kuroyu remain. Today, Nishi-san and Kita-san decided to go to Kamata-onsen one of the Kuroyu in Ota City. Kamata-onsen is located in an alley in the back of the shopping street.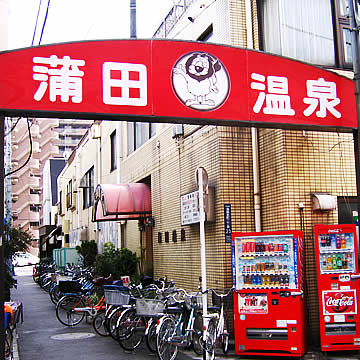 Exterior (Entrance)
Oh, this is Kamata-onsen. It's like a rustic bathhouse in an old town.
The entrance is ... ah, there. It looks like a back door.
The two go to the bathing room at once. Now, it is still before the evening on weekdays, but some local customers already have come.
♨ When you come from JR Kamata Station, turn left with this sign on a utility pole.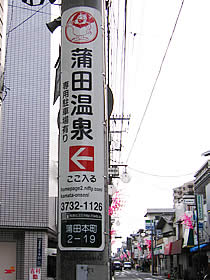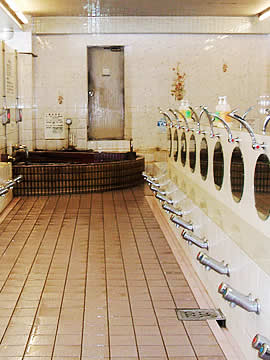 Washing area (Kuroyu bathtub in the back)
The washing area is slender, but quite large. Back is the bathtub.
Oh, Kuroyu! This bathtub is dyed black, you know.
The Kuroyu bathtub at Kamata-onsen is divided into low-temperature and high-temperature, and each one has a thermometer. They show the low one is 41.5 ℃ (106.7 ℉) and the high one is 45.5 ℃ (113.9 ℉). Four persons are already soaking in the low-temperature bathtub.
♨ The reason why Kuroyu looks black is what it has "humic acid" made from plant sediments. Tokyo has many Kuroyu hot springs.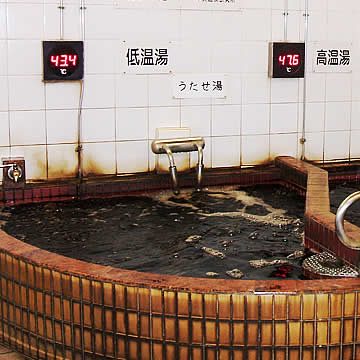 Kuroyu bathtub
The low one is full. Well, OK. The other looks hot, but I try it ... Ouch! So hot!
Hey, still only 3 seconds. But it's a bit hot ... No, it's pretty hot.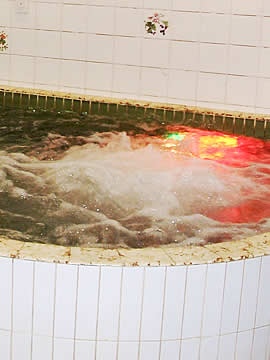 Jacuzzi with electric bath
The hot water seemed a bit hot to relax, so the two decided to wait in a jacuzzi until the low one became not crowded. (By the way, jacuzzi is not a Kuroyu hot spring.) After a while, low one of Kuroyu became empty.
Wow, it's really black. It's like barley tea ... No, it's espresso coffee .... After all, Americano ...
Whatever. By the way, Kuroyu is not as peculiarity as it looks, but it's soft. In short, That's the spring quality of Kuroyu.
Nishi-san and Kita-san who enjoyed Kuroyu came up from the bath.
Oh, there's a break room on the second floor.
Then, let's take a break.
On the second floor there is a restaurant and banquet hall where you can take a break. They went up the stairs at once.
♨ The bathtub is not necessarily limited to four people. It depends on customers.
♨ For bathhouses in Tokyo, it is common for water temperatures to be around 46 ℃ (114.8 ℉). Apart from the locals, it's so hot for most travelers, I think.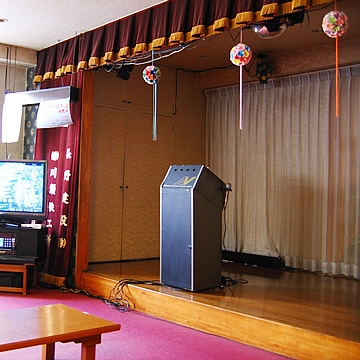 Stage on the second floor hall
... So Showa-ish ...
... Yeah ...
Nishi-san and Kita-san ordered draft beer at the social hall-like restaurant in old town.
(February 2013)
♨ At the cafeteria, a local uncle told the waitress, "I saw your face, and the pain in my waist has healed." What is common in the old town cafeteria.
Impression & rating
The Kuroyu here is quite black and thick. I'm happy that the Kuroyu bathtub has a faucet of hot spring source.
Impression & rating
It has the atmosphere of one generation ago, close to the locals. The drawback is that the Kuroyu bathtub is small.
→ How to rate
The
Onsen

facility
Address

2-23-2,

Kamata-honcho, Ota-ku, Tokyo

Phone

domestic: 03-3732-1126
international: +813-3732-1126

Web Site

Bathing hours

10:00 - 1:00

Regular holiday

Open year round

Charge

Adults (12 years old and over): ¥ 470 / Elementary school students: ¥ 180 / Preschool children: ¥ 80

Baths

Gender-separated indoor bath
The hot spring data
(from hot spring analysis report etc.)
Spring quality

Sodium - Hydrogen carbonate / Chloride spring

(Hypotonic Weak alkaline Cold mineral spring)

Temperature

17.5 ℃ (63.5 ℉)

Volume

50.4 L / min (Pumping)

pH value

8.2

Total ingredients

2.33 g / kg

Perception

Black brown
Today's
Bento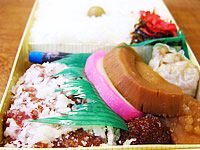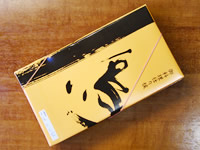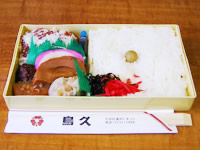 Kamata Torikyu

Fried Chicken

Bento

(Purchased at Torikyu main shop)

Kamata Torikyu is famous as a Bento for shooting staff. Fried chickens in white robes are delicious. The most popular is a "Special Bento" that contains chicken cutlets and yakitori. It's often sold out if you are late, so go to buy as soon as possible.

« menu »
Fried chickens, Shumai, Tsukune, Potato, Kamaboko, Bamboo Shoot

(¥ 630) (→ Kamata Torikyu website)
The descriptions on this page contain personal opinions and are not necessarily objective facts.
The information may have changed at present. In particular, the charge and price etc. has often not updated from the time of travel, so check the latest information on the official website.